Shooting New York: The Life of a News Photographer
Article and photos by Daniel A. Sheridan

This article appeared in Arch Type, the New York University Journalism School Magazine — Winter, 1989.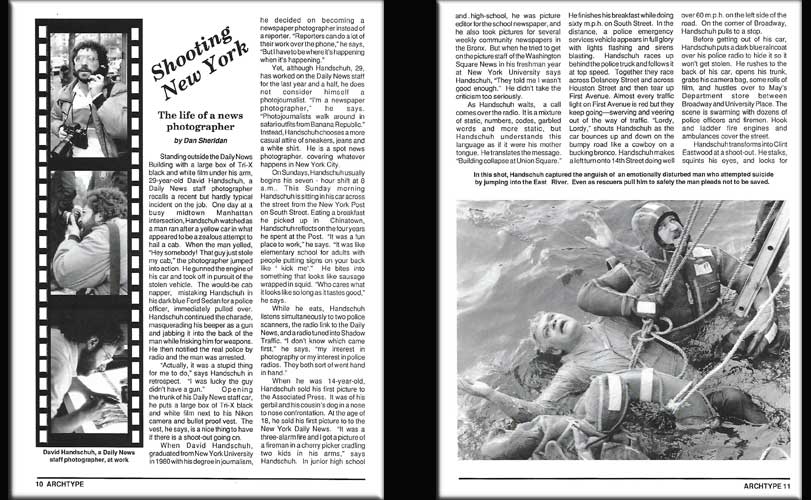 Standing outside the Daily News Building with a large box of Tri-X black and white film under his arm, 29-year-old David Handschuh, a Daily News staff photographer recalls a recent but hardly typical incident on the job.

One day at a busy midtown Manhattan intersection, Handschuh watched as a man ran after a yellow car in what appeared to be a zealous attempt to hail a cab. When the man yelled, " Hey somebody! That guy just stole my cab," the photographer jumped into action. He gunned the engine of his car and took off in pursuit of the stolen vehicle. The would-be cab napper, mistaking Handschuh in his dark blue Ford Sedan for a police officer, immediately pulled over. Handschuh continued the charade, masquerading his beeper as a gun jabbing it into the back of the man while frisking him for weapons. He then notified the real police by radio and the man was arrested.
"Actually, it was a stupid thing for me to do," says Handschuh in retrospect. "I was lucky the guy didn't have a gun." Opening the trunk of his Daily News staff car, he puts the large box of Tri-X black and white film next to his Nikon camera and bullet-proof vest. The bullet-proof vest, he says, is a nice thing to have if there is a shoot-out going on. When David Handschuh graduated from New York University in 1980 with his degree in journalism, he decided on becoming a newspaper photographer instead of a reporter. "Reporters can do a lot of their work over the phone," he says, "But I have to be where it's happening when it's happening."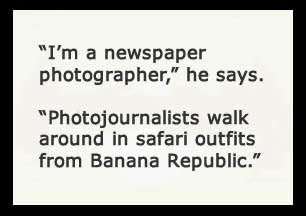 Yet, although Handschuh has worked on the Daily News staff for the last year and a half, he does not consider himself a photojournalist. "I'm a newspaper photographer," he says. "Photojournalists walk around in safari outfits from Banana Republic." Instead, Handschuh chooses a more casual attire of sneakers, jeans, and a white shirt. He is a spot news photographer covering whatever happens in New York City.
On Sundays, Handschuh usually begins his seven hour shift at 8:00 a.m.. This Sunday morning Handschuh is sitting in his car across the street from the New York Post on South Street. Eating a breakfast he picked up in Chinatown, Handschuh reflects on the four years he spent at the Post. "It was a fun place to work," he says. "It was like elementary school for adults with people putting signs on your back like 'Kick Me' " He bites into something that looks like sausage wrapped in squid. "Who cares what it looks like so long as it tastes good," he says.
While he eats, Handschuh listens simultaneously to two police scanners, the radio link to the Daily News, and a radio tuned into Shadow Traffic. "I don't know which came first," he says, "my interest in photography or my interest in police radios. They both sort of went hand in hand."
When he was 14-years-old, Handschuh sold his first picture to the Associated Press. It was of his gerbil and his cousin's dog in a nose to nose confrontation. At the age of 18, he sold his first picture to the New York Daily News. "It was a three-alarm fire and I got a picture of a fireman in a cherry picker cradling two kids in his arms," says Handschuh. In junior high school and high school, he was picture editor for the school newspaper and he also took pictures for several weekly community newspapers in the Bronx. But when he tried to get on the picture staff of the Washington Square News in his freshman year at New York University says Handschuh, "They told me I wasn't good enough." He didn't take the criticism too seriously.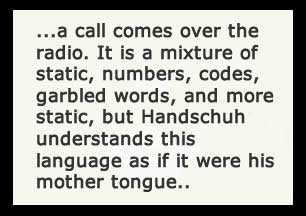 As Handschuh waits, a call comes over the radio. It is a mixture of static, numbers, codes, garbled words, and more static, but Handschuh understands this language as if it were his mother tongue. He translates the message. "Building collapse at Union Square." He finishes his breakfast while doing sixty m.p.h. on South Street. In the distance a police emergency vehicle appears in full glory with lights flashing and sirens blasting. Handschuh races up behind the police truck and follows it at top speed. Together they race across Delancey Street and across Houston Street and then tear up First Avenue. Almost every traffic light on First Avenue is red but they keep going-swerving and veering out of the way of traffic. "Lordy, Lordy," shouts Handschuh as the car bounces up and down on the bumpy road like a cowboy on a bucking bronco. Handschuh makes a left turn onto 14th Street doing well over sixty m.p.h. on the left side of the road. On the corner of Broadway, Handschuh pulls to a stop.
Before getting out of his car, Handschuh puts a dark blue raincoat over his police radio so it won't get stolen. He rushes to the back of his car, opens his trunk, grabs his camera bag, some rolls of film, and hustles over to May's Department store between Broadway and University Place. The scene is swarming with dozens of police officers and firemen. Hook and ladder fire engines and ambulances cover the street.
Handschuh transforms into Clint Eastwood at a shoot-out. He stalks, squints his eyes, and looks for someone to shoot. He reaches for his Nikon in his camera bag and loads it with a roll of Tri-X. He takes aim and shoots in rapid fire succession. His camera is outfitted with a motor drive which gives it a machine gun-like capability.
A huge pile of smashed bricks covers the side walk and part of the street outside May's Department Store. A ten foot by sixty foot section of the building's facade fell to the ground. Luckily, this occurred on a Sunday morning two hours before the store opens. Only one pedestrian was slightly injured. Handschuh hooks his flash to the camera and gets some pictures of the injured pedestrian sitting in the ambulance. He takes pictures of the rubble, of the building, and of the firemen on the roof knocking loose debris from the side of the building. Before leaving the scene, he takes a few minutes to talk to some of the police.
Back in the car, he switches on the radio and gets another assignment from the picture editor at the Daily News. He has to stake out an apartment of a public school principal accused of buying crack. The principal lives in Harlem and has only been photographed with a coat over his head. "If you get a picture of him," says the picture editor, "I'll give you a week off." Handschuh gets on the FDR Drive and heads up to Harlem. It is a windy November day and it has begun to rain. Traffic slows to a crawl and the FDR Drive begins to look more and more like the East River, but Handschuh does not seem to mind. "I couldn't work anywhere else," he says driving upstream on the FDR. "Friend of mine works at a paper upstate-gets as many assignments in a month as I do in a day."
Later, up in Harlem, Handschuh parks his car and waits outside the apartment of the school principal. "This is the hardest part of the job," he says, sitting in his car listening to the police scanner and reading the newspaper. "I'm serious, this waiting around is the hardest part."
"Handschuh is a top-notch spot news photographer," says Matt Mendelsohn, picture editor for United Press International's news bureau in Washington D.C.. "The Daily News embodies the New York style of journalism that Handschuh excels at. He's aggressive and he won't take 'no' for an answer, but at the same time, he reminds me of Woody Allen. He's funny and he'd be lost if he ever left New York."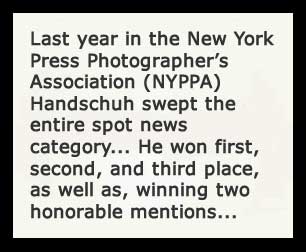 Mendelsohn first became aware of Handschuh's work when he used to edit Flashpan, the magazine for the National Press Photographer's Association (NPPA). "I was always seeing this David Handschuh win year after year," he says referring to the group's photographic competition held once a year. Last year in the New York Press Photographer's Association (NYPPA) Handschuh swept the entire spot news category, according to Sylvia Bayramia, secretary at the NYPPA. He won first, second, and third place, as well as, winning two honorable mentions.
Mendelsohn mentions a picture Handschuh took of a man in a swan dive off the Brooklyn Bridge. "Keep in mind Handschuh's not lucky. He has to to work hard for those pictures," says Mendelsohn who ended up doing a story on Handschuh for the NPPA magazine. "His car is a communications center. He's never out of touch with what's going on."
After waiting for more than two hours with not much of an opportunity to get a picture of the school principal accused of buying crack, another Daily News photographer comes by to relieve Handschuh at the stake- out. Handschuh heads back to the Daily News Building at the end of the day to drop off the film at the photo lab. After the negatives are developed, and the prints are made, Handschuh sits down to write the photo captions. "I think I write the best captions if I do say so myself," says Handschuh. "They're mostly in English." He types his name, David Handschuh, which will appear in the Daily News beneath the picture he worked hard to take.
This article appeared in Arch Type, the New York University Journalism School Magazine — Winter, 1989.