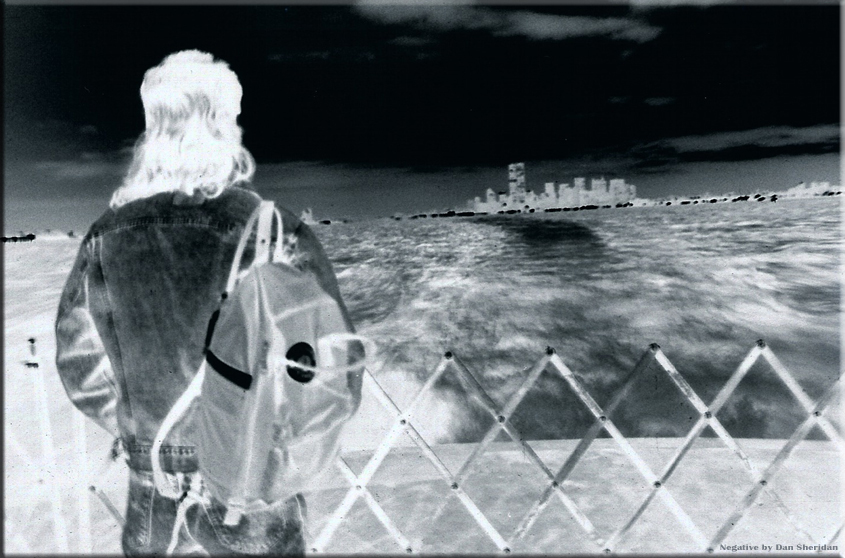 The First Darkroom Technicians - Part I
by Daniel A. Sheridan
September 6, 2011

Last night I read, The Camera and the Pencil or The Heliographic Art, by Marcus Aurelius Root, published in 1864. This is considered to be one of the first books on the history of photography.
Back in 1989, as I sat in the History of Photography class, I learned that many of the early pioneers in photography lived on Staten Island and took the ferry over to York, as they referred to The City back then. Among the Staten Island residents were: John William Draper, a chemistry professor at New York University, who took one of the first known portraits, Mathew Brady and Timothy O'Sullivan. I thought of going on assignment for my photojournalism class in 1988 trying to capture an image of illegal Irish immigrants.
Root argues that photography is art - Heliography is his preferred term. "Sun painting, I was mortified to find, was considered a merely mechanical process which might be learned in a few weeks… I regard it as decidedly one of the fine arts." Root includes letters he received from Professor Draper of New York University and Professor Morse.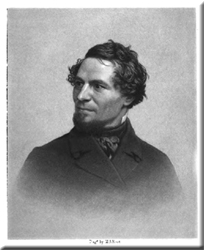 The Camera and The Pencil, or The Heliographic Art
By Marcus Aurelius Root
J.B. Lippincott & Co. 1864
Xviii – Heliography "sun sketching" is a correct general name…
Page 337 – History of the Heliographic Art in the United States
Page 339 - I addressed letters to Professors John W. Draper and S.F.B. Morse
Pages 339-341 – Letter in reply from J.W. Draper
Page 341 – About this time I became acquainted with Professor Morse and we subsequently had a building on the top of the New York University in which we took many portraits. * This was the first portrait taken from life.
Page 342 – In March, 1840… my success in solving the problem of photographic portraiture. All these things I knew before Daguerre was named on this side of the Atlantic. How any doubt can now be entertained as to who took the first sun-portrait passes my comprehension. Yours, truly, J.W. Draper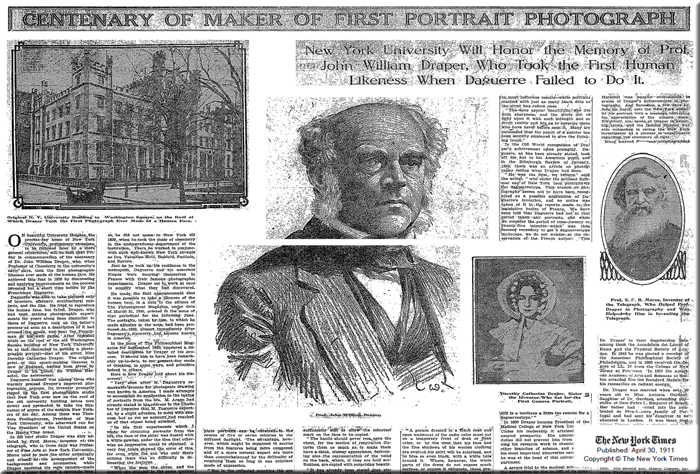 Editor's Note: I found this article in The New York Times (April 30, 1911) about Prof. John William Draper.


Page 344 – The following queries to Professor Morse
Page 344 – Letter from Professor Morse, Poughkeepsie, Feb. 10th, 1855
Page 345 – Invited by Daguerre to see his results in private… his process was then secret. My letter… to my brothers, the editors of the New York Observer, about the first week in March, 1839… The first experiment, crowned with any success, was a view of the Unitarian Church, from the window on the staircase from the third story of the New York University… It was in September, 1839.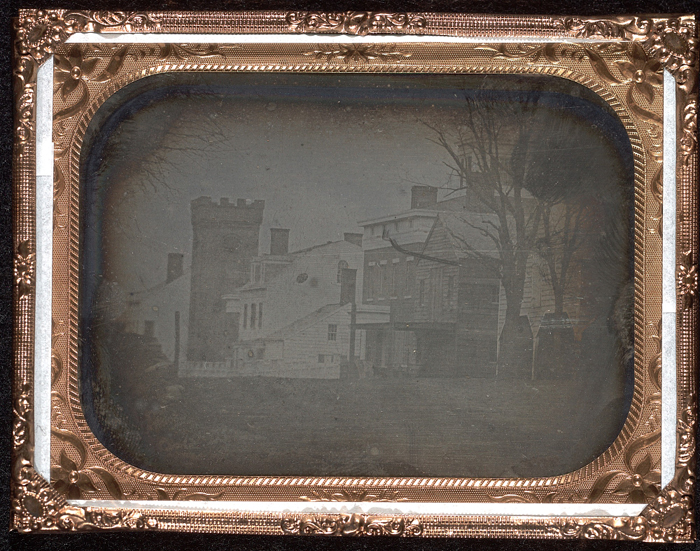 The First Darkroom Technicians Part II